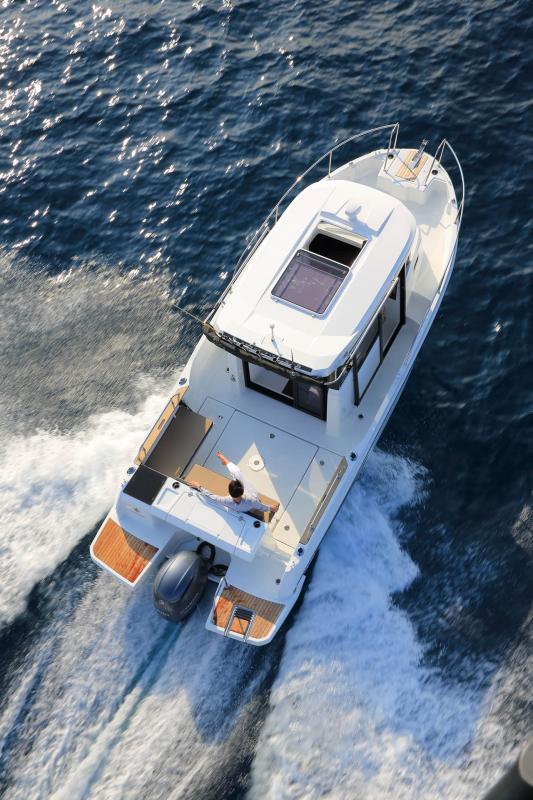 MERRY FISHER 795 MARLIN
Nowy model cenionej serii jachtów Merry Fisher Marlin to jacht, który będzie świetnym rozwiązaniem dla tych osób szukających łodzi zarówno do rodzinnych rejsów, jak i dla miłośników wędkarstwa.
Stabilna, pewna konstrukcja jachtu gwarantuje bezpieczeństwo i komfort żeglugi. W zależności od wybranej wersji mamy do dyspozycji duży kokpit z wygodną, osłoniętą przez kabinę kanapą i stołem oraz materacami do opalania (wersja 2 drzwiowa, rodzinna), lub duży kokpit i łatwe przejścia wzdłuż kadłuba, duże rozsuwane drzwi do kabiny bezpośrednio z kokpitu, oraz wejścia z boku (wersja 3 drzwiowa, wędkarska).
Fotele w kabinie można obrócić, zyskując przyjemny salon ze stołem, a kabina z toaletą oferuje wygodne, podwójne łóżko.
DANE TECHNICZNE
DŁUGOŚĆ

7,17 M

SZEROKOŚĆ

2,8 M

POJEMNOŚĆ ZBIORNIKA PALIWA

280 L

POJEMNOŚĆ ZBIORNIKA NA WODĘ

100 L

WAGA BEZ SILNIKA

1750 KG
THE SUV OF THE SEA
With her contemporary design and distinct personality, the Merry Fisher 795 Marlin offers true comfort while underway and quality of life on board.
Her proven hull, stable and fast, ensures excellent performance. With her adventurous style, this "SUV of the sea" reveals a great multitude of uses.  According to the configuration (1-2-3 doors), the Merry Fisher 795 Marlin can favour fishing or family cruising.
In "fishing mode", she features a wide, 3-panel sliding glass door aft, wide side doors, and secure recessed sidedecks for safe and easy passage between the helm station and the cockpit.
In "family outings mode",  the Merry Fisher 795 Marlin combines comfort and shared spaces with a bench seat located just behind the wheelhouse, sheltered from the wind.  It faces the comfortable and even larger cockpit saloon, whtich ransforms into a sundeck.